Tags
2day, A.I., Abu Musab al Zarqawi, Afghanistan, al Qaeda, Change, CNN, Conspiracy, Culture, Danger, Drone, Drone Attacks, Future, Government, Innovation, Iraq, killing, Matrix, Mullah Omar, Pakistan, Predator, Raven, Reaper, Robot Drone, Shadow, Taliban, Terminator, u.s., u.s. Bullisht, UAV, USAF
via: CNN

Not far from the strip in Vegas, a group of unassuming buildings have become similar 2 'trenches' in WWI; difference? 2day's 'warriors' [*cough*bullisht] are fighting w/o getting in harm's way, using drones 2 attack targets in Afghanistan & Pakistan.
Remote-controlled drones , such as the Predator, are proving increasingly popular w/u.s. military.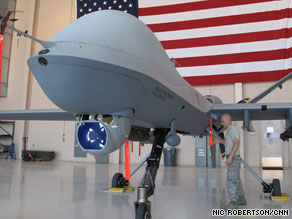 There are now more than 7,000 UAVs ranging from the workhorse, the Predator, & its beefier, deadlier kin the Reaper, 2 army drones like the tiny hand-launched Raven & larger Shadow.
The drones are dramatically tilting the war in favor of the u.s. Predators, 4 example, played a key role in killing al Qaeda in Iraq leader Abu Musab al Zarqawi in 2006. UAVs are credited with killing more than half al Qaeda's top 20 leaders.
Blah blah blah.  .u get the gist.

UAVs changing the face/war

Demand 4 UAVs has increased »
All via: CNN